PRE-ORDER until 29.11.2020, shipping will begin on the 30th of November. No partial shipping.

Size: 400 ml

The Red Acne Body Wash helps get rid of Backne, underarm bumps, and chest and butt acne.
It is an effective acne care product that helps exfoliate dead skin cells & impurities effectively while soothing irritated skin to prevent breakouts.
It has deep cleansing properties that helps remove the impurities without stripping the skin and helps balance the pH level. It has also been clinically tested and is safe to use for sensitive skin.
Key Ingredients
Niacinamide
Reduces acne & strengthens skin
Salicylic Acid
Works best for mild acne (blackheads and whiteheads).
It can also help prevent future breakouts.
Hyaluronic acid
Moisturizes the skin
How to use
1.Squeeze out body wash
2.Lather on body, target areas with acne like back & chest
3.Rinse off
TIP: Use it with loofah for extra lather
What's in it?

The MEDI-SOL COMPLEX that gives you the perfect combination of 5 different natural herb extracts
from Lavender, Thyme, Korean Red Pine, Wild Mint & Apple Mint.
This creates a perfect synergy to treat body acne & give you a refreshing cleansing experience.
Niacinamide Helps visibly minimize enlarged pores, tighten lax pores, improve uneven skin tone,
soften fine lines and wrinkles, diminish dullness, and strengthen a weakened surface.
Salycalic Acid Works best for mild acne (blackheads and whiteheads). It can also help prevent future breakouts.
Hyaluronic acid Moisturizes the skin.

Clinical Results

The product passed clinical trials to be effective in
reducing body acne & was tested to be FREE from any kind of allergic ingredients.
*Test conducted by OATC on 26 different allergens declared by the Ministry of Food & Drug Safety, Republic of Korea.
Clinically tested to be suitable for sensitive skin. It helps to balance the skin's pH level to 5.5~6.5,
this ensures that your skin remains hydrated and prevents symptoms of dry & irritated skin.

Better with

Red Foam Cleanser - Cleanser containing 0.5% salicylic acid for acne relief.
Red Toner_200ml - Toner containing ovalicin transfers skin texture, recharges moisture, and helps absorbing future products.
Red Serum_50ml - Serum containing ovalicin boost moisture absorption and helps solve skin problems.
Red Cream - Cream containing ovalicin forms a skin barrier, preventing water evaporation and protecting sensitive skin surfaces.
Customer Reviews
Write a Review
Ask a Question
Filter Reviews:
skin
delivery
acne
scent
back
body
body wash
results
bumps
smell
12/03/2020
Kelvin W.
Singapore
Red Acne Body Wash
Just received the product. Yet to try. Hopefully it will cure my body acne problem.
11/28/2020
Irene K.
Singapore
Excellent
Grear product for ensuring body is acne free
11/28/2020
Chika M.
Singapore
good for skin and not ichy anymore
good for skin and not ichy anymore
11/27/2020
Aloysius V.
Singapore
Skin is no longer itchy after using this
11/27/2020
Janna T.
Singapore
good product
It cleanses my skin better than regular body wash. It does help with bumps but i'm not sure about the scars.
11/27/2020
S. Chen
Singapore
1st purchase
Back feels less itchy and lesser bumps after using for a week. I thought there will a loofah together with this purchase but there wasn't any. Need to purchase from other stalls.
11/27/2020
Elvira N.
Singapore
Bodywash & Facemask
Hi The body wash is for my teenage son & he has used it a couple of times. So far so good. Have tried the mask & they are great.
11/26/2020
Samantha T.
Singapore
First time trying
There's improvement seen, will repurchase although its expensive.
LL
11/26/2020
Len L.
Singapore
Effective
After a week of using it, there is a noticeable improvement on the part where acne used to develop. As I suspected some parts will dry up. On parts where there is no acne it will feel a little dry and itchy esp on arms and face. I still can tell that the dryness is not that troublesome compared to the sulfur soap i tried before. The level of dryness is not uncomfortable and not much as eventually your skin oil will replenish the skin moisture. I just tried to prevent applying too much on unaffected areas.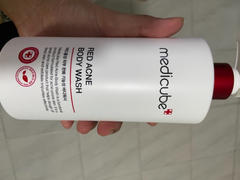 11/26/2020
Gan L.
Singapore
Effective
I workout alot so use this for every shower. I can feel it is effective and working slowly. I have bumps on the side of my neck and back which are from sweat and I can feel those bumps either disappear or become smaller. The smell of the soap is like baby shampoo, very calming and it stays on your skin post-shower. Will finish this bottle and see if results are good for me to buy a second one.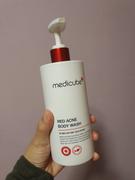 11/26/2020
Dave H.
Singapore
Red Acne Body Wash
This is my 2nd purchase and getting one for friend who has this problem too.
11/25/2020
Geoffery H.
Singapore
All-In-One Perfume Shower Duo SET
Used... less pimple. Not so bad. Can buy for sensitive skin user. -SingaporeUser
11/25/2020
Gep R.
Singapore
Promise Delivered
I have pimples at the back of my upper arms. On the first week of using this product, most of them dried up, the redness is almost gone and new bumps on my skin hardly develop. I also like that the scent is mild. The product came a few days after ordering in a nice and secure packaging.