Customer Reviews
Write a Review
Ask a Question
08/03/2020
Hai M.
Singapore
Quality product
no white streaks and felt really comfortable using it on my face.
I have extreme skin problems. Large bulging acne, blemishes, new and old acne scars, severe oily skin problems ever since my secondary school days, big open pores and skin sensitivity to the sun. Till one day scrolling through IG, I met Medicube! It has helped my skin to be free from my pre-existing skin problems! Except for my very old scars, I may need laser treatments for that. Unless Medicube surprises me again? :) Red Capsule Sunscreen however has helped me by boosting my confidence again in sunscreens. Never ever have I thought any skin care brands are able to come up with something as genius as this! Thank you Medicube for creating such amazing products. Will definitely re-purchase!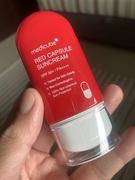 Delivery was fulfilled by Ninja Van, and it took about 4 days. The item itself is great. As someone who is very particular about skincare products, I could not find any fault with this sunscreen. It's free of many harmful ingredients I try to avoid, including talc, mineral oil and parabens. It dries to a somewhat matte finish and didn't feel greasy at all on my super oily skin despite the cream formulation and the high SPF protection it offers. Highly recommended :)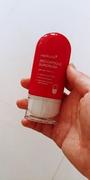 Not sticky and smells great!
One of the best sunscreen I've used! I have been using Lab Series Mens Sunscreen for years and have to say I am not that pleased with the stickiness and oiliness. After changing to Medicube's Sunscreen, i am impressed by the non-sticky attribute and zero oil or gloss feeling on my face!
After using for a month and re - purchase my second bottle of sun screen I wanna to share about e sun screen .it really non sticky n light feel and on e same time it come with high spf 50. I use it everyday. Love it and wanna to share it with people who afraid of sunblock come with oily and heavy feel . U should try it .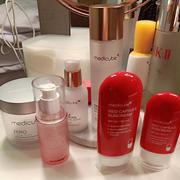 Very fast shipping and in good condition!