CLEAR PORES, CLEAR SKIN
Clear skin starts with clear pores. And clear pores start with these dual-textured toner pads. Infused with a unique blend of natural ingredients to exfoliate dead skin cells, regulate sebum, and tighten pores. Troubled skin is treated and soothed to reveal visibly clearer and smoother skin.

AHA Fruit Complex composed of natural extract gently exfoliate and deeply penetrate to clear away buildup, dirt and debris from pores. It also contains patented botanical formulas clinically proven to reduce sebum production and tighten pores. On top of that, Zero Pore Pads is certified hypoallergenic and packed with moisturizing agents for an irritation-free hydrating toning solution.


Key Ingredients
White Willow Bark
Contains salicylic acid which helps to unclog pores
Grape, Key Lime, Lemon, Apple, Orange
Naturally slough off dead skin cells, rough patches, and debris
Cypress Tree Leaf, Purslane, Baikal Skullcap
Natural anti-inflammatory properties decrease swelling of overactive sebum glands
How to use
1. After cleansing, with the embossed side, gently swipe across the face from the center outwards
2. With the silky side, gently swipe your face one more time for a final polishing touch
3. Lightly pat remaining toner into skin to enhance absorption
NOTE
Vita C Ampoule cannot be used together with Zero Pore Pad. Please check FAQ for more details.

Customer Reviews
Write a Review
Ask a Question
Filter Reviews:
pores
skin
face
feeling
bottle
purchase
Zero Pore Pad
friends
usage
reviews
11/24/2020
JL
Singapore
Brighter skin!
Been using this for a week or so now and my skin does feel brighter and cleaner. I was skeptical of all the good reviews before but my face does seem more glowy and less dull. I use this with the Red Foam Cleanser and it's been keeping any breakouts or maskne at bay. My pores are still visible but hopefully it'd get better over a longer period of use!
11/18/2020
Adrena L.
Singapore
My first try!
The product is amazing! I'm using halfway through the product now and I can see significant change. My pores are less visible now and my face has brighten up a lot that I have stopped putting on foundation!
11/17/2020
Low M.
Singapore
Nice product
Delivery fast. 刚用了2天痘痘明显退了效果级好! 也不油肌肤清爽!❤❤❤
11/11/2020
Ili S.
Singapore
I LOVE THIS PRODUCT. NO REGRETS
11/09/2020
Evelyn L.
Singapore
[NEW] Zero Pore Pad 2.0
Repeated purchase. Love the feel after each use.. feel clean and smaller pores.
11/05/2020
Wendy H.
Singapore
[NEW] Zero Pore Pad 2.0_70ea
This i my 4th purchase on this Zero Pore Pad and ever since my blackhead lesser and i am very impressed with the result!!
11/04/2020
Cheryl C.
Singapore
I love it!
This is my 3rd and I love it. My skin feels clean and moist after using it. No tight feeling at all. Will buy again soon.
11/02/2020
Ann L.
Singapore
Best product
The pore really become smaller after i use medicube porepad for at least 1 week. Very nice product , will definitely recommend to my friends and family
11/02/2020
Nurin A.
Singapore
10/27/2020
Charles T.
Singapore
AMAZING!
Skin was much smoother and brighter after using for 3 months!
10/14/2020
Chien Y.
Singapore
Medicure Zero Pore Pad 2.0_1st try
The product is good, my pore are smaller now and face oil seems to be more controlled. I only used it once a day because of my sensitive skin. I believe if you used more twice a day, the effect will be faster. Your face will feel moist after used too. It acts as a toner as well so do not waste your toner on top of it.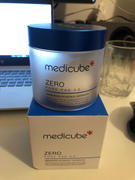 10/13/2020
Wong D.
Singapore
10/12/2020
Rihanah I.
Singapore
Im So Glad!!
Omg!! Im glad that i bought it. It wipe off all the balance makeup from my face especially my eyeliner n mascara. The pores on my face seems to be smaller and i dont have much issue with white head anymore
10/10/2020
Sheena G.
Singapore
10/07/2020
Elaine N.
Singapore
Great product I been using for few month ☺️